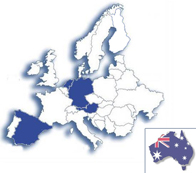 A coordinated, active and multidisciplinary team is central to this project to face challenges related to the development of technology-based solutions and adequate research and implementation from a fall prevention and prediction more content-related point of view.
iStoppFalls will involve representatives of world-leading technology and research experts from both university and industry partners in Europe and Australia. The program will strengthen collaboration between research and technology, and thus will contribute to European excellence and competitiveness and will produce new insights in this important field of work.
The iStoppFalls consortium has the required expertise in the necessary technological and scientific areas, namely fall prevention& prediction, exercise programs & exergames, unobtrusive sensing, advanced reasoning, end-user accessibility, and planning & implementation of controlled randomized clinical trials.
All scientific partners have an outstanding scientific reputation, and many of them are leaders in their respective fields. The consortium has the required technology-related power provided by Philips Research Europe, Instituto Biomecanica Valencia, Kaasa Solution, and Austrian Institute of Technology, including the required exploitation expertise with both an innovative SME and a large enterprise. End-User usability & accessibility know-how as well as modern HCI concepts provided by University Siegen, and experienced fall prevention & prediction as well as exercise know-how is guaranteed by our partners German Sports University Cologne and Neuroscience Research Australia.
The members of our consortium are geographically spread across Europe (together with a well renown partner from Australia), and are at home in different interdisciplinary fields of work related to prevention and prediction of falls, thus ensuring maximal dissemination and impact of the results of the iStoppFalls project.
Consortium Partners:

University Siegen, Germany (Coordinator)
German Sports University Cologne, Germany

Austrian Institute of Technology, Austria

Instituto de Biomecanica de Valencia, Spain

Philips Research Europe, Netherlands

Kaasa Solution GmbH, Germany

Neuroscience Research Australia, Australia